Welcome to Tuxedo Park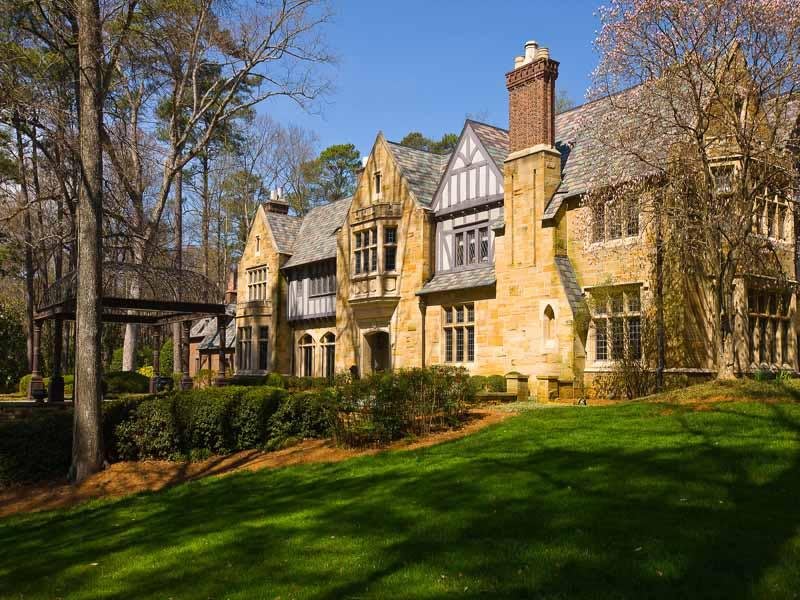 Tuxedo Park has evolved over more than 50 years from woodland and farms through magnificent summer estates to one of Buckhead's most prestigious neighborhoods.
Although its elegant homes range from Georgian and Tudor to Italianate and Greek Revival, the lush natural environment unifies the district. Homes on large lots often are nestled into woods or sited beyond a rise in a rolling park-like setting.
The neighborhood, a magnet for tour buses, is generally bounded by Valley Road on the east, Blackland Road on the north, Northside Drive on the west and West Paces Ferry Road on the south.
The route that is now West Paces Ferry has been at the heart of the area's history since Creek Indian times.
In the mid-1880s, as white settlement intensified in the former Creek lands northwest of the new but rapidly developing town of Atlanta, Paces Ferry Road was a main route to the Chattahoochee River. East of Moores Mill Road, it was part of the original Peachtree Road that led to Fort Peachtree on the banks of the Chattahoochee River, once the site of the Creek Indian town of Standing Peachtree.
The name Paces Ferry derives from a flat-boat ferry service that Hardy Pace, a settler who came to the area from North Carolina, established in the early 1800s near where Peachtree Creek empties into the Chattahoochee. Pace, born in 1785, also ran a post office near what is now Vinings. He died in 1864 and is buried in the Vinings Cemetery.
During the Civil War, Federal troops closing in on Atlanta used the Paces Ferry crossing and camped in fields along Paces Ferry Road.
The area remained rural until wealthy Atlantans began to build summer homes along Paces Ferry Road in 1904. The wooded, rolling hills made an ideal retreat from the bustling city six miles to the south.
The land on which many of these estates were built once was owned by James H. Smith. Smith, who died in 1872, is buried in what is now known as Harmony Grove Cemetery, which still exists at the southwest corner of West Paces Ferry and Chatham roads.