Welcome to Ansley Park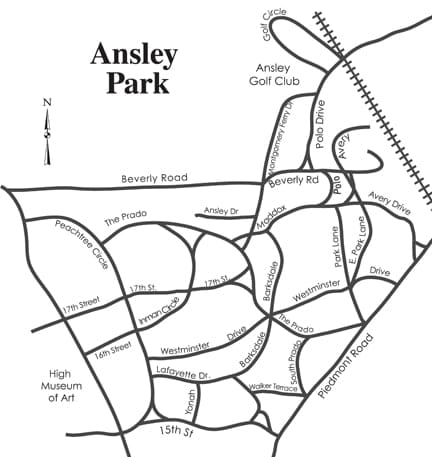 Ansley Park is an affluent residential neighborhood in Atlanta, Georgia, located just east of Midtown and west of Piedmont Park. When developed in 1905-1908, it was the first Atlanta suburban neighborhood designed for automobiles, featuring wide, winding roads rather than the grid pattern typical of older streetcar suburbs. Streets were planned like parkways with extensive landscaping, while Winn Park and McClatchey Park are themselves long and narrow, extending deep into the neighborhood.
Ansley Golf Club borders the district. The neighborhood was largely completed by 1930 and covers 275 acres (1.11 km2). It has been designated a Historic District on the National Register of Historic Places. In 2008, the median household income for the neighborhood was $226,335.
The area was developed by rail and real estate magnate Edwin P. Ansley, while George W. Adair, Jr. and Forrest Adair marketed the lots. It was marketed as an alternative for the city's elite to Inman Park, the most fashionable residential neighborhood in the city at the time. It was more fashionably located, astride Peachtree Street and adjacent to the city's largest public park. With Edwin Ansley's former residence serving as the governor's mansion and the Piedmont Driving Club adjacent, the area remained upscale until the 1960s when a slight decline was experienced with some residences turning into boarding houses. However residents turned this decline around and the area never experienced the deep decline in the 1950s-1960s due to suburbanization as neighborhoods like Inman Park did .