Welcome to Brookwood Hills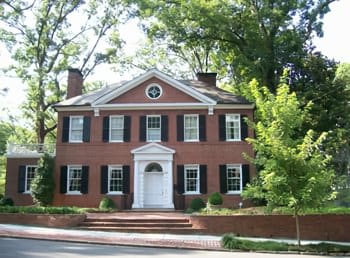 Brookwood Hills Atlanta, GA
Brookwood Hills is a historic neighborhood located in intown Atlanta, Georgia, USA, north of Midtown and south-southwest of Buckhead. Home to about 1000 people, it was founded in the early 1920s by Benjamin Franklin Burdett and his son, Arthur. The site of the neighborhood is located where some of the bloodiest battles of the American Civil War took place during the Atlanta Campaign.
Brookwood Hills is located near the heart of Atlanta, only a few miles away from the skyscrapers of its major business districts. It is connected by three entrances to Peachtree Road, and has no other outlet. Brookwood Hills is bordered roughly by Peachtree on the west, Interstate 85 on the south, the Norfolk Southern train tracks (just south of Peachtree Creek) to the north, and Clear Creek to the east.
The Brookwood neighborhood, for which Brookwood Hills was named, is located immediately southwest of the southern tip of Brookwood Hills. This is in turn immediately north of the major freeway interchange called the "Brookwood split", which joins I-75 to the northwest and I-85 to the northeast into the Downtown Connector to the south.
Because of the recent rapid growth of metro Atlanta, developers have made constant attempts to build whatever they can near, or inside the neighborhood. Examples of these are:
Building a MARTA station inside of the neighborhood. (stopped)
An industrial park on the other side of Clear Creek.
Extending W. Peachtree into and through the neighborhood. (stopped)
Highrise apartments in residents' backyards.(mostly stopped)
Because of these pressures of being a big-city community, the Brookwood Hills Community Club (BWHCC) was created. (This is the reason so many of the above projects were halted). The BWHCC also owns the park and pool in the center of Brookwood Hills.
Brookwood Hills was the creation of the Burdett family. Benjamin first created the neighborhood on the Battlefield of Peachtree Creek owned by himself and local Thomas Collier. The streets were built in accordance to the hilly terrain, instead of grid form, as was popular at the time. Mr. Burdett planted oak sapplings during Brookwood Hills' founding, which now stand tall and are the trademark quality of the neighborhood. The area developed by Benjamin and Arthur Burdett is now registered as the
Brookwood Hills Historic District
. Learn More about Brookwood Hills at the city's
websi
te.