Welcome to Inman Park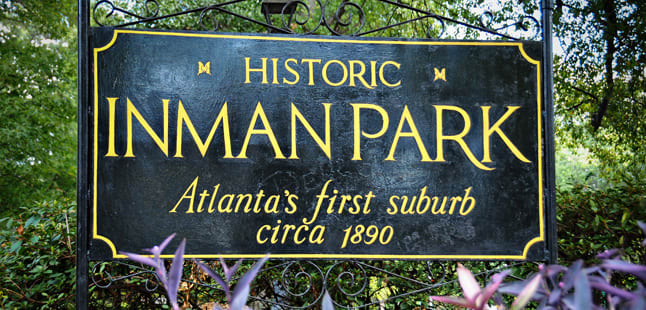 Inman Park is a neighborhood on the east side of Atlanta, Georgia, and its first planned suburb. It was named for Samuel M. Inman.
Inman Park (proper) was planned in the late 1880s by Joel Hurt, a civil engineer and real-estate developer who intended to create a rural oasis connected to the city by the first of Atlanta's electric streetcar lines, along Edgewood Avenue. The East Atlanta Land Company acquired and developed more than 130 acres east of the city and Hurt named the new suburb for his friend and business associate, Samuel M. Inman. Joseph Forsyth Johnson was hired as landscape designer for Inman Park who included curvilinear street designs and liberal usage of open spaces in his planning.After decades of restoration and renewal, Inman Park is now a highly coveted intown neighborhood with numerous million-dollar properties.
Former industrial areas on the west side of the neighborhood have been redeveloped into mixed-use complexes. The former General Pipe and Foundry site is now North Highland Steel and the Mead paper plant site is now Inman Park Village. The former Atlanta Stove Works was transformed into a mixed-use office and restaurant space, which will now be added to the space across Krog Street to form the Krog Street Market.
Known as Atlanta's first garden suburb, Inman Park boasts an array of architectural styles, including Victorian, Queen Anne, Craftsman, and Colonial Revival. Whether it's a meticulously restored historic residence or a modern interpretation of classic design, Inman Park's homes for sale offer a blend of timeless elegance and contemporary living, making it a sought-after destination for homebuyers seeking a harmonious blend of history and charm.